16' Tall Water Slide with Pool red and orange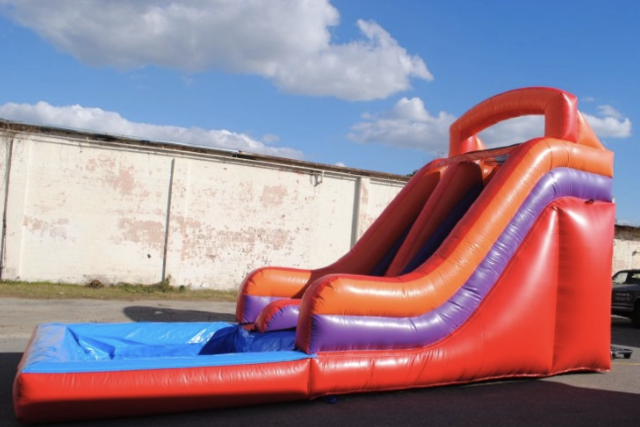 Description
16' tall
Introducing our thrilling 16' Tall Water Slide with Pool in vibrant red and orange! Get ready for an exhilarating summer adventure that will keep both kids and adults entertained for hours.
This impressive water slide stands at an impressive 16 feet tall, offering an adrenaline-pumping experience like no other. Its eye-catching red and orange design adds a vibrant touch to any backyard or event, creating a visually stunning centerpiece that will attract attention from all around.
Constructed with the highest quality materials, our water slide ensures durability and safety. The sturdy frame and reinforced seams guarantee stability, while the soft and slippery surface allows for a smooth and fast ride. The integrated pool at the end of the slide provides a refreshing landing spot, adding an extra element of excitement and cooling fun.
Perfect for birthday parties, family gatherings, or any outdoor celebration, this water slide promises endless laughter and unforgettable memories. Watch as kids climb up the ladder, slide down with excitement, and splash into the pool, over and over again. It's a surefire way to beat the heat and keep everyone entertained throughout the summer season.
Setting up the water slide is a breeze, thanks to its user-friendly design. Simply inflate it with an air pump, connect the garden hose to the built-in sprinklers, and let the water flow. The continuous water spray ensures a slippery surface for maximum sliding enjoyment.
Safety is our top priority, which is why our water slide features safety netting on the sides to prevent accidental falls. Additionally, the wide and sturdy steps of the ladder provide a secure climbing experience, making it suitable for children of different ages.
So, why wait? Bring the excitement of a water park right to your backyard with our 16' Tall Water Slide with Pool in red and orange. Get ready for a summer filled with thrilling adventures, laughter, and endless fun.