16' Tall Water Slide with Pool with Palm Trees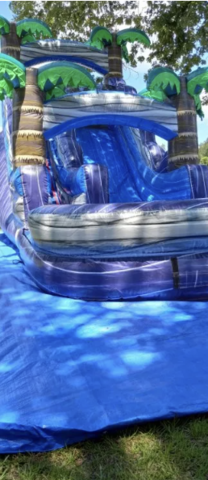 Description
16' tall
Introducing our thrilling 16' Tall Water Slide with Pool with Palm Trees! Get ready for a summer of endless fun and excitement with this ultimate water slide experience.
Designed with safety and enjoyment in mind, this water slide stands an impressive 16 feet tall, making it the perfect centerpiece for any backyard party or event. Watch as kids and adults alike line up to take on the challenge and slide down into the refreshing pool below.
Featuring vibrant palm trees on both sides, this water slide creates a tropical oasis right in your own backyard. The palm tree design adds a touch of paradise, transporting you to a sunny beach destination while you slide and splash.
Constructed with durable and high-quality materials, this water slide guarantees hours of non-stop fun. The slide's smooth surface ensures a fast and exhilarating ride, while the pool at the bottom provides a safe and refreshing landing. With its sturdy construction, this water slide can accommodate multiple users at once, making it perfect for parties and gatherings.
Setting up this water slide is a breeze. Simply inflate it, attach a garden hose, and let the water flow! The continuous water spray keeps the slide wet and slippery, ensuring a smooth and exciting ride every time.
Safety is our top priority, which is why this water slide is equipped with safety features such as sturdy handrails and non-slip steps for easy climbing. Additionally, the pool at the bottom provides a safe landing area, giving parents peace of mind while their little ones enjoy the slide.
Whether you're hosting a birthday party, a summer barbecue, or just want to beat the heat, our 16' Tall Water Slide with Pool with Palm Trees is the perfect addition to any outdoor gathering. Get ready for endless laughter, splashes, and memories that will last a lifetime. Order yours today and make this summer unforgettable!