18' Tall Water Slide Wave with Pool red and gray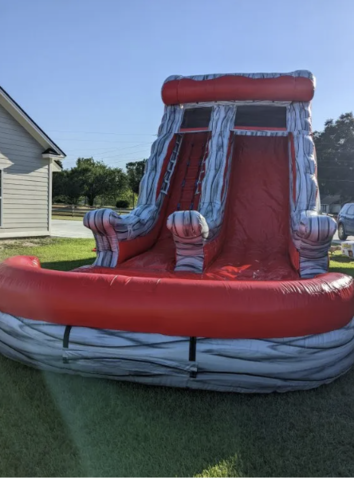 Description
18' tall
Introducing the exhilarating 18' Tall Water Slide Wave with Pool in a striking red and gray color scheme. This impressive water slide is designed to bring endless hours of fun and excitement to your backyard or event.
Standing at an impressive 18 feet tall, this water slide is sure to make a splash at any gathering. Its towering height adds an element of thrill, making it perfect for both kids and adults seeking an adrenaline rush. Whether you're hosting a birthday party, a family reunion, or a summer barbecue, this water slide will be the center of attention, providing non-stop entertainment for all ages.
The vibrant red and gray color combination adds a modern touch to this already impressive water slide. Its eye-catching design is sure to captivate the attention of guests and create a visually appealing focal point in any outdoor setting.
Equipped with a refreshing splash pool at the bottom, this water slide ensures a safe landing for every rider. The pool provides a cool and comfortable area to relax after an exhilarating slide down. The sturdy construction of the water slide guarantees durability, ensuring that it will withstand countless hours of playtime and provide endless memories for years to come.
Safety is a top priority, and this water slide is designed with that in mind. It features high side walls and safety netting to prevent accidental falls, giving parents peace of mind while their children enjoy the slide. Additionally, the slide is made from high-quality materials that are resistant to wear and tear, ensuring a safe and enjoyable experience for everyone.
Setting up the 18' Tall Water Slide Wave with Pool is a breeze. It comes with easy-to-follow instructions, and the included air blower quickly inflates the slide, allowing you to get the fun started in no time. When not in use, it can be easily deflated and stored away until the next adventure.
Don't miss out on the chance to bring the excitement of a water park to your own backyard. With the 18' Tall Water Slide Wave with Pool in red and gray, you can create unforgettable memories and provide hours of entertainment for your family and friends. Get ready to slide, splash, and laugh your way to a summer full of fun!