18' Tall Water Slide with Pool red and blue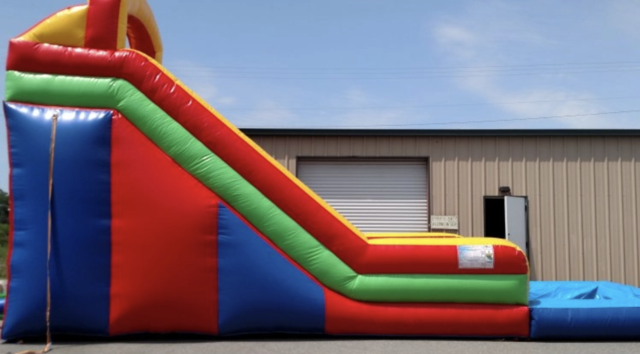 Description
18' tall
Introducing our thrilling 18' Tall Water Slide with Pool in vibrant red and blue! Get ready for an unforgettable summer experience with this ultimate water attraction that will bring endless fun and excitement to your backyard.
Designed with safety and entertainment in mind, this water slide features a towering height of 18 feet, ensuring an exhilarating ride for both kids and adults alike. Imagine the thrill of climbing to the top, feeling the rush of adrenaline as you plunge down the slide, and landing with a splash into the refreshing pool below.
Crafted from durable and high-quality materials, our water slide guarantees hours of non-stop entertainment. The vibrant red and blue color scheme adds a touch of vibrancy to your outdoor space, making it an eye-catching centerpiece that will surely impress your guests.
Perfect for birthday parties, family gatherings, or simply beating the summer heat, this water slide provides endless hours of fun-filled activities. Watch as your little ones laugh and play, creating memories that will last a lifetime.
Setting up this water slide is a breeze, thanks to its user-friendly design. Simply inflate, connect to a water source, and let the excitement begin. The included pool at the end of the slide ensures a safe landing, providing a soft and splashy finish to each thrilling ride.
Safety is our top priority, which is why our water slide is equipped with sturdy side handles and a non-slip climbing surface, ensuring a secure ascent to the top. Additionally, the high walls of the slide add an extra layer of protection, keeping riders safely within the slide's boundaries.
Invest in the ultimate summer entertainment with our 18' Tall Water Slide with Pool in red and blue. Bring the thrill of a water park right to your backyard and create unforgettable memories for the whole family. Get ready for an unforgettable summer filled with laughter, splashes, and endless fun!