Sunshine Double Lane Slip N Slide Water Slide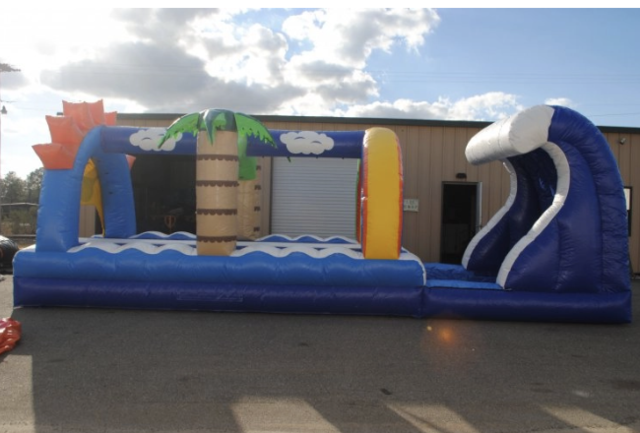 Description
35' long
Introducing the Sunshine Double Lane Slip N Slide Water Slide, the ultimate summer accessory for endless fun and excitement!
Get ready to make a splash with this amazing water slide that guarantees hours of entertainment for kids and adults alike. Whether you're hosting a backyard party, a family gathering, or just looking to beat the heat, this slip n slide is the perfect addition to your outdoor activities.
Featuring not one, but two lanes, this slip n slide allows you to race your friends and family to see who can reach the finish line first. The dual lanes add an element of competition and friendly rivalry, making every slide a thrilling experience.
Constructed with high-quality materials, the Sunshine Double Lane Slip N Slide Water Slide ensures durability and longevity. The tough and puncture-resistant surface can withstand hours of sliding, ensuring that you can enjoy this water slide for many summers to come.
Setting up the slip n slide is a breeze. Simply lay it out on a flat surface, connect your garden hose, and watch as the water flows down the lanes, creating a slippery surface that will have you gliding and sliding in no time. The built-in sprinkler system ensures a constant flow of water, providing a smooth and exhilarating ride every time.
Safety is always a top priority, especially when it comes to water activities. That's why the Sunshine Double Lane Slip N Slide Water Slide is designed with safety features in mind. The huge pool landing area provides a gradual and controlled stop, minimizing the risk of any accidents or injuries.
Not only is this water slide a blast to use, but it also promotes physical activity and outdoor play. It's a fantastic way to keep kids entertained and active during the summer months, helping them stay healthy and engaged.
So, why wait? Bring the excitement of a water park right to your own backyard with the Sunshine Double Lane Slip N Slide Water Slide. Order yours today and get ready for endless hours of slip-sliding fun!